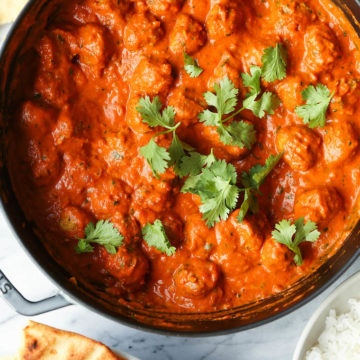 Everyone's favorite butter chicken made into the most tender, most amazing meatballs! So saucy, so good. Serve with rice + naan!
Is it weird that I prefer this than the more traditional butter chicken?
I mean, it's meatballs. It's basically not even a competition. Meatballs trump all. Meatballs made with ground chicken, Panko, egg, cilantro and curry powder baked until tender and melt-in-your-mouth amazing, then smothered, dunked, and swimming in the sauciest butter chicken goodness.
Serve with warm, toasted naan and basmati rice to get all the saucy bits. And if you have any leftovers (which would be impossible because it's just that good), you can make an Indian pizza. That's what we did, and it was the best pizza of my life.
I may make this again just to repurpose the leftovers for that pizza again!
entree
Butter Chicken Meatballs
20 minutes35 minutes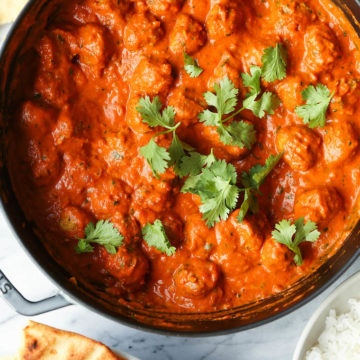 Ingredients:
4 tablespoons unsalted butter
1/2 medium sweet onion, diced
1 jalapeno, seeded and diced, optional
3 cloves garlic, minced
2 teaspoons freshly grated ginger
2 teaspoons garam masala
1 teaspoon ground turmeric
1 (8-ounce) can tomato sauce
1 (6-ounce) can tomato paste
1 1/2 cups chicken stock
Kosher salt and freshly ground black pepper, to taste
1/3 cup heavy cream
For the meatballs
1 1/2 pounds ground chicken
1/2 cup Panko
1 large egg
3 tablespoons chopped fresh cilantro leaves
2 teaspoons yellow curry powder
Kosher salt and freshly ground black pepper, to taste
Directions:
Preheat oven to 425 degrees F. Line a baking sheet with parchment paper.
To make the meatballs, combine chicken, Panko, egg, cilantro, curry powder, 1 teaspoon salt and 1/2 teaspoon pepper in a large bowl. Using a wooden spoon or clean hands, stir until well combined. Roll the mixture into 3/4-to-1-inch meatballs, forming about 36-40 meatballs.
Place meatballs in a single layer onto the prepared baking sheet. Place into oven and bake until lightly browned and cooked through, about 15 minutes.
Melt butter in a large skillet over medium heat. Add onion and jalapeno, if using. Cook, stirring occasionally, until tender, about 3-4 minutes.
Stir in garlic, ginger, garam masala and turmeric until fragrant, about 1 minute.
Stir in tomato sauce, tomato paste and chicken stock; season with salt and pepper, to taste. Bring to a boil; reduce heat and simmer, stirring occasionally, until reduced and slightly thickened, about 10 minutes.
Stir in heavy cream and meatballs until heated through, about 2-3 minutes.
Serve immediately.